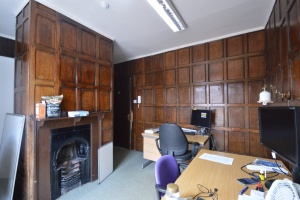 Lovely building and the perfect space for creativity and productivity!
Serviced Offices: Room 8 & 9
A rare opportunity to lease rooms 8 and 9 has arisen! These rooms are nestled in the heart of our Grade II listed building and one of the reasons we have our listed status. Featuring original oak panelling and fireplace, these first floor rooms offer a history rich backdrop and the perfect working environment for small businesses.
Whilst we'd love to see these rooms used in tandem, the opportunity to lease them separately is available for interested businesses.
Room 8 offers 160sq ft of working space and sits two desks comfortably.
Room 9 offers 320sq ft of working space and can seat up to six desks comfortably.

Antrobus House Floor Plan
Room Number

Size

Occupancy

Prices from

(per month)

Availability

Room 8
160 sq ft
1-2 people
£470 +VAT
Immediately
Room 9
320 sq ft
4 – 6 people
£1055 + VAT
Immediately
Why choose Serviced Offices?
Antrobus House Business Centre offers you the perfect office space for your business. You will join a community of like-minded professionals who wish to keep their work and home life separate, and established businesses who benefit from having the day to day business operations handled by our support staff.
No one likes surprises, so all of our prices quoted are 'all-inclusive'! Meaning a fixed-cost monthly payment; including super fast Virgin broadband, all utilities, cleaning and refreshments; your attention can now be 100% on your business!
Parking spaces immediately outside our offices are available, so please ask about these when you get in touch!
What does your fixed monthly rate cover?
24-hour access, (you will provided your own keys so if that project requires a little extra time – you are under no pressure to vacate the building!)
Super fast Broadband connection
Business rates and utilities (water, gas, electricity)
Furnished or unfurnished (choose from our range of desks and storage or bring your own).
Secure postal locker for incoming mail
Cleaning
Prestigious Petersfield address
Registered Office for Limited companies
Personal door entry system
Secure shredding facilities
Kitchen (including boiling water dispenser, tea, coffee and milk)
Chilled filtered water machines
Mail collection point for outgoing mail
Bike Rack
Well behaved dogs welcome
I can wholeheartedly recommend the warmth and flexibility of the team, the facilities, the atmosphere and the location.
Does this office sound right for you?
We're easily reachable! Give the team a call on 01730 234500 or email us at info@antrobushouse.co.uk.
We look forward to meeting you soon.